In Memoriam: Maha Abu-Dayyeh (24 August 1951 – 9 January 2015)
Reposted from the Women's Center for Legal Aid and Counseling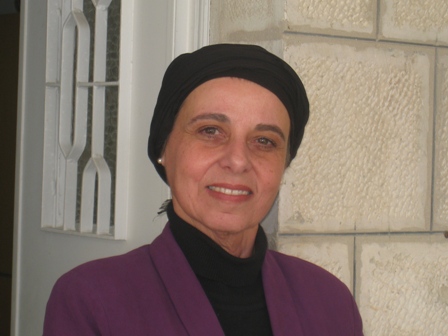 It is with deepest sorrow that the members of the Women's Centre for Legal Aid and Counselling announce the passing of its co-founder and General Director, Ms. Maha Abu-Dayyeh. Maha died in the early morning hours on 9 January 2015, surrounded by her beloved family, after a long and courageous battle with cancer. Maha is survived by husband Charles Shamas and children Raja Shamas and Diala Shamas. The funeral service will be held on Saturday, January 10
th
, at 2PM, at the Augusta Victoria Chapel on the Mount of Olives in Jerusalem and the burial will follow in Beit Jala.Maha was a visionary leader and an untiring servant of the Palestinian women's movement. She began her human rights work as a staff member at the Quaker Center for Legal Aid for Palestinian political prisoners from the late-1980s into the early-1990s. While there, she began to recognise the specific needs of Palestinian women. Thus, in 1991, with several other Palestinian women, Maha co-founded the Women's Centre for Legal Aid and Counselling in Jerusalem, now a leading women's rights organisation dedicated to developing a democratic Palestinian society based on the principles of gender equality, social justice, and human rights.
"Peace is made between peoples and not between leaders. A process that should lead to a political solution that is sustainable and consequently permanent…should not be left to the confines of the generals, and should be transparent to the relevant societies. We have to address and understand each others history with an open mind. If we leave it only to men we get Israeli generals and Palestinians who will not be defeated and there is no room to negotiate.The participation of women in any future peace process is essential to maintain connection to the realities of the relevant societies… Women have proven themselves to be more dedicated to the process of reaching out. .. We want to approach peace-building in a way that will promote long-term stability. We want to explain to each other what it is like to live in Israel and Palestine, to develop transparent procedures so that any peace will be one between individuals and not politicians."

-Maha Abu Dayyeh Shamas – May 2002 UNSC
Full remarks available here
In addition to directing WCLAC, Maha contributed enormously to numerous local, regional, and international organisations for over 30 years. She has served on boards of Palestinian human rights organisations including the Palestinian Agricultural Relief Committees (PARC), the Jerusalem Link, and the Jerusalem Legal Aid and Human Rights Centre. Maha also represented WCLAC in AISHA, the Arab regional women's human rights network, and served on the boards of the International Jury of the Body Shop Human Rights and Equality Now, an international organisation dedicated to promoting the rights of girls and women. Maha was awarded the French Republic Human Rights Award in 1998 and was the recipient of the Ms. Woman of the Year Award in 2002 in the US. One of her proudest contributions to strengthening Palestinian women's rights and promoting democratic principles in the wider Palestinian society was her visionary leadership and the organising role played by WCLAC in the Palestinian Women's Model Parliament, 1996-1997, a vehicle to insert women's interests into the national discourse in the wake of the Oslo Accords.Maha's remarkable life is distinguished by her achievements as a Palestinian feminist human-rights activist, leader, and thinker and by her integrity, perseverance, and unrelenting commitment to promoting women's human rights locally and internationally. She also understood the critical importance of providing quality legal aid, social counselling, and protection services to women in an environment where their rights are denied and abused and their interests overlooked, alongside the struggle to create institutional change in the wider society.Above all, we at WCLAC will always remember Maha as a humble, kind, and gentle lover of life and of freedom for all Palestinian people. Maha's passing has left a hole in our hearts but we will continue to struggle for the rights of Palestinian women with greater vigour and commitment.May you rest in peace, dear Maha.